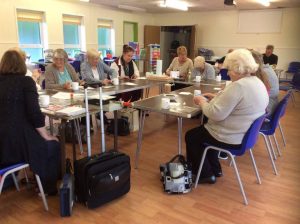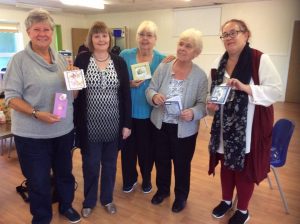 You are invited to join one of our comfortable, thriving social groups led by members themselves, and facilitated by qualified highly experienced and thoughtfully kind staff and volunteers.
The groups are designed to use arts and crafts as a way to bring people together socially to reduce social isolation and to prevent the negative effects of chronic ill health from eroding independence and wellbeing. The resulting creativity enhances and increases social opportunities for local adults, supporting and encouraging resilience and a positive mental outlook that is beneficial for individuals managing one or more chronic physical or mental health conditions. Members are assisted in using their own assets, gifts and skills to connect socially with others from the local area in their own comfortable and accessible community centres.
Members are invited to select their own interests from a wide range offered and they can, if they prefer, enjoy just a simple chat and refreshments.
We offer jewellery making, card-making, games and puzzles, model-making, small woodwork crafts and repairs, sewing, crochet and knitting, IT phone and Tablet support. Relaxation, hand massage and chair based exercise are also activities available to enjoy. Members often introduce new ideas from their own interests to the group and help with informal group learning.
For further information on joining us you can get in touch directly to make initial plans for a taster visit to a group. Individuals may attend independently and alone or with a friend, carer, or personal assistant who is able to provide required personal support and transport to group venues.
Those attracted to the Community Connections groups may be managing a whole range of physical or mental health issues at home. They may be retired or caring for a relative and in need of regular breaks or a place to share activities with a loved one. Some people may be recovering from mental illness, or an operation, or managing anxiety and depression, or have been sadly bereaved. Some members are simply interested in getting out and about, making new friends, preventing feelings of loneliness from becoming an issue and even getting involved in sharing by volunteering within the group!
Our aim is to help encourage and develop personal confidence and resilience. Peer support and shared enjoyable activities that strengthen the ability to maintain personal lifestyle choices along with a sense of belonging and purpose that makes a valuable difference to everyone involved.
Visit our Contact Page for more details.