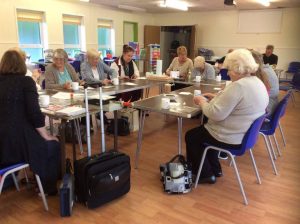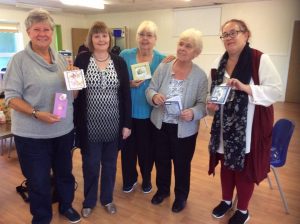 Our Community Connections project allows the elderly to try activities they used to enjoy and to sample new activities. Here is some more information.
We want to harness all this through creativity, to respond to the requests of people whose free time can be mutually beneficial, particularly amongst older people and those with additional needs. Neighbourhood connections and volunteering activities provide people with purpose, connections, activities and opportunities to share gifts, skills and learning. The resulting feelings of self-worth and confidence are described as 'life savers'.
We have built up a relationship over time with the local community and they have shaped the whole purpose and shape of this proposed project. The artistic impact of work created in the community by the community and for the community goes beyond the creative process – the therapeutic nature of the process along with the work produced impacts on those creating and viewing the work produced. We propose to showcase the work in forms of community exhibition and performance alongside existing community Festivals across West Lancashire.
We aim to develop friendships through a Community Connections invite where people take their own mug and a craft activity or an art idea to a neighbour's house for a drink and a chat using a social prescribing model and the 5 ways to well-being from these initial connections the individuals will begin to share their skills and stories with each other and be encouraged to join one of our weekly Creative Arts and Creative Dance group sessions at local community centres. Our Project Co-ordinators along with our volunteers and freelance Arts and Dance Practitioners deliver weekly activities where our beneficiaries can dip into a wide variety of Arts activities, learn a new skill our beneficiaries coming every week and getting on with whatever they want to do.
Current sessions taking place in across West Lancashire, contact us for further details.
Please call 07896137236 or email suzanne@divinedays.co.uk if you are interested in coming to our sessions or if you are interested in these sessions where you live. To attend a session you must have a referral/induction with us.
Or visit our Contact page – http://www.divinedays.co.uk/contact-us/